内容简介:Micro and Nano-structuration of single crystal silicon was already proven to be a powerful technology, enabling for instance the realization of 2D photonic band-gap materials (or photonic crystals). In this talk, we will make a review of different techniques of silicon micro- and nano-structuration, based on plasma processing, which include Deep Reactive Ion Etching (DRIE) and cryogenic plasma etching, leading either to structures with perfectly controlled shapes or randomly structured surfaces of the so-called Black Silicon, respectively.
Silicon nano-patterning is also considered without the need for high-cost electron-beam or Deep-UV lithography. To this end, low-cost techniques are considered and they include self-assembly of nano-patterns and their subsequent transfer onto the underlying silicon.
主讲人介绍:
Tarik Bourouina holds M.Sc. in Physics, M.Eng. in Optoelectronics, Ph.D. in MEMS (1991), and HDR (2000) from Université Paris-Sud, Orsay. His entire career was devoted to the field of MEMS and Lab-On-Chip. He had several contributions in optical MEMS, among which the smallest MEMS-based FTIR Optical Spectrometer, Neospectra, jointly developed with Si-Ware-Systems, awarded the Prism award on photonics innovation in 2014.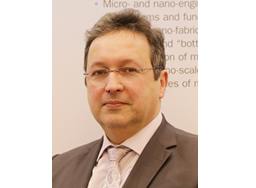 Professor Tarik BOUROUINA is now a Fellow of Chinese Academy of Sciences, visiting scientist at the Changchun Institute of Optics, Fine Mechanics and Physics (CIOMP), during the period from April 2017 to March 2018.